South Hall | One Morgan Place
Yellow Springs, OH 45387
937-319-6139 ext: 2220
Antioch College
Exhibition
This Darkroom's Gone To Heaven, Eric William Carroll, Gelatin silver print
Courtesy of Eric William Carroll
Disappearing Acts
Sep. 5, 2014 – Nov. 14, 2014
Tues–Sat: 1–4 pm | Closed: Sept. 21–29
Disappearing Acts brings together the works of Basma Alsharif and Eric William Carroll to suggest that photographic absence, or concealing, might reveal contours of our world that we never knew existed.
Basma Alsharif's photographs and videos hide more than they reveal: fragmented stories and memories stretch across media, cultures and languages. Hers is an aesthetic of exile, wherein photography's primary function is ambivalent nostalgia. Photographic images are inherently fragmentary, and Ms. Alsharif's work shows us that finding coherence in these fragments is a performative act.
Eric William Carroll's photography also mulls over loss: from the disappearance of darkrooms to the evanescent images of forest shadows. But Mr. Carroll's work doesn't dwell in nostalgia so much as deploy it. This Darkroom's Gone to Heaven, among other works, uses obsolescing technology to record and "preserve" obsolete technology. This preserving concept is a recursive absurdity that elucidates our own conflicted relationship to media. His work is an elegy. To the medium of photography. To the dreams and desires photography has engendered since its inception. Co-curated by Charles Fairbanks and Jennifer Wenker.
Film / Video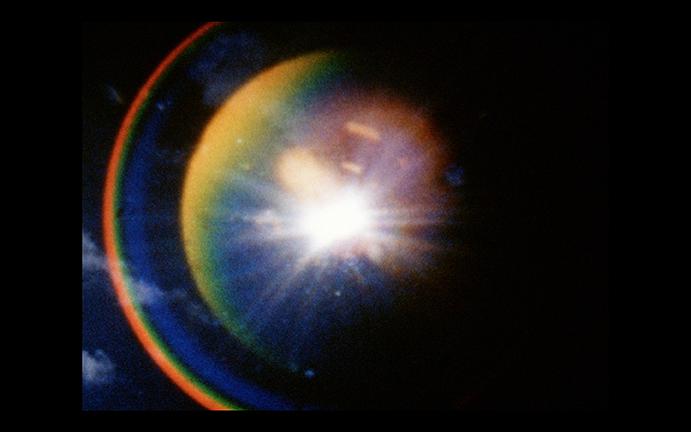 Sep. 12, 2014
Herndon Gallery | Antioch College, South Hall | One Morgan Place | Yellow Springs, OH 45387
Basma Alsharif presents Deep Sleep, a Screening and Auto-Hypnosis Performance on Friday, September 12, from 7 to 9 pm. An Opening Reception for the event is included.
ABOUT DEEP SLEEP
A hypnosis-inducing pan-geographic shuttle built on brainwave generating binaural beats, Deep Sleep takes visitors on a journey through the sound waves of Gaza to travel from the ruins of an ancient civilization embedded in a modern civilization in ruins (Athens), to the derelict buildings of anonymous sites (Malta) and to post-civilization ruins (the Gaza Strip). Shot while under self-hypnosis, the performance-film requests visitors experience movementbeyond the corporeal self to the cinema space in a collective act of bilocation that transcends the limits of geographical borders, time and space. 12:44 single channel HD video + live performance under auto-hypnosis. Produced by Galerie Imane Fares, with support from the Malta Arts Fund and LabA Greece.
ABOUT THE ARTIST
Basma Alsharif is a nomadic artist/filmmaker born to Palestinian parents. Raised in France and then the US, Ms. Alsharif has lived and worked nomadically since 2007, developing her practice in cities like Cairo, Beirut, Sharjah, Amman and, most recently, Paris. Ms. Alsharif installation and film works are informed by a fascination with the human condition as it relates to the subjective experience of political landscapes, history and the natural world. The works of Basma Alsharif have shown in solo exhibitions, biennials, and film festivals internationally, including YIDFF, the Jerusalem Show, TIFF, the Berlinale, Videobrasil, and Manifesta 8. Her awards include a Jury Prize at the ninth Sharjah Biennial and the Marion McMahon Award at the Images Festival in Toronto. She was also guest at the Flaherty Film Seminar in upstate New York. She will be a resident of the Pavillon at the Palais de Tokyo in Paris November 2014–June 2015. Basma Alsharif received her MFA from the University of Illinois at Chicago and is represented by Galerie Imane Fares in Paris France, and her works are distributed by Video Data Bank.
Reservation Information:
Free and open to the public. For more information, contact Jennifer Wenker at jwenker@antiochcollege.org or 937-319-0114.
Lecture
Oct. 23, 2014
Herndon Gallery | Antioch College, South Hall | One Morgan Place | Yellow Springs, OH 45387
Eric William Carroll presents an Artist Talk on Thursday, October 23, from 7 to 9 pm. A Reception is included.
ABOUT THE ARTIST
Eric William Carroll is an artist exploring photography in all its forms. By reenacting photography's cultural and technological history, he aims to reveal the medium's elementary characteristics and metaphorical potential, as well as our expectations and desires for the art form. Born and raised in the Midwest, Mr. Carroll has bounced between New York and San Francisco and currently teaches at Macalester College in St. Paul, Minnesota. His work has been exhibited widely, including the New Orleans Museum of Art, the Camera Club of New York, the Museum of Contemporary Photography, and SF Camerawork. Eric William Carroll has participated in residencies with the MacDowell Colony, Rayko Photo Center and the Blacklock Nature Sanctuary, and was the winner of the 2012 Baum Award for Emerging Photographers. He is represented by Highlight Gallery in San Francisco.
Reservation Information:
Free and open to the public. For more information, contact Jennifer Wenker at jwenker@antiochcollege.org or 937-319-0114.
Event
Oct. 24, 2014
Glen Helen Ecology Institute | Antioch College, Yellow Springs, OH 45387
Diazotype Workshop
Photographer Eric William Carroll will conduct an all-day Diazotype* Workshop at Glen Helen on Friday, October 24, from 9 am to 5 pm.
*A pervasive printing process for most of the twentieth century, the Diazotype process involves the combination of light-sensitive diazonium salt with Azo dye to produce a white print with blue lines, also known as a "blueline" or "whiteprint."
Reservation Information:
Find additional details at antiochcollege.org or by contacting Jennifer Wenker at jwenker@antiochcollege.org or 937-319-0114. A rain date is scheduled for the next day, October 25.