Oct. 12, 2014
Memorial Hall
Speakers
Rachel de Joode
Rachel de Joode is Dutch born and Berlin based. She's from Amersfoort, the Netherlands, and studied time-based arts at the Gerrit Rietveld Academie Amsterdam. Shel has had multiple solo exhibitions: The Matter Of It Being A Stone, SWG3, Glasgow; (2014); The Molten Inner Core, Gallery Neumeister Bar-Am, Berlin (2014); The Hole and the Lump, Interstate Projects, New York (2013); and Real Things —Explorations in Three Dimensions, Oliver Francis Gallery, Dallas (2012). Ms. de Joode's work has also been exhibited in many groups exhibitions in Europe, the US, China and Australia. She was awarded the Deutsche Börse Residency Program at the Frankfurter Kunstverein in Frankfurt (2013), the Sculpture Space-funded residency (2012) and a residency at LMCC swingspace program at Governors Island, New York, NY (August '13 - January '14). She is currently teaching photography theory and photography at DAAP at the University of Cincinnati and preparing for a solo show at Kansas Gallery (NYC) in February. Ms. de Joode is known as a great connoisseur of surfaces—wet, smooth, crumpled, drooping. She conflates the mediums of photography and sculpture via photorealist sculpture and sculptural photography. Her works distort familiar structures, lending new shapes to bodies and objects. Often working with highly abstracted or 'raw' materials, she instigates shifts in form so that the final art object is frequently one, two or more steps removed from the material being depicted. For instance, a recent work of hers takes photographs of the artist's own tears which are then mounted onto plaster, cut into the shape of their path down her cheek and displayed as sculpture.
Fred and Laura Ruth Bidwell
Both Fred and Laura Bidwell continue to be highly involved supporters of artists and arts organizations. Laura Bidwell was the founding curator of Summit ArtSpace Gallery in Akron, Ohio, and Fred Bidwell has been board president, twice, of the Akron Art Museum. He is currently a trustee for the Cleveland Museum of Art, where he recently served as Interim Director of the Museum. In 2011, the husband-wife arts advocates established the Fred and Laura Ruth Bidwell Foundation to support creativity and innovation through the arts. In 2013, they were awarded the Cleveland Arts Prize Martha Joseph Award for Distinguished Service to the Arts. In January 2013, the Bidwell Foundation opened the Transformer Station, a private museum in a restored 1924 multi-leveled transformer substation with a contemporary minimalist addition, located in the Ohio City neighborhood of Cleveland. Here, the Bidwells' acclaimed collection is on display for visitors, and here too highly praised programming is offered in the way of Artist Talks, performance and events.
Todd Herzog
Associate professor and head of German Studies at the University of Cincinnati, Todd Herzog also directs the university's Film & Media Studies program. He is co-editor of the Journal of Austrian Studies and author or editor of five books, including most recently, East, West, and Centre: Reframing Post–1989 European Cinema (Edinburgh, 2014, with Michael Gott) and Tatort Germany (Camden House, 2014, with Lynn Kutch). Mr. Herzog is currently editing A Critical Filmography of German Cinema to 1945 for Caboose Books and working on a book about art and life after the death of privacy. He regularly teaches courses on German and European cinema; film studies' methodology and history; and German cultural history.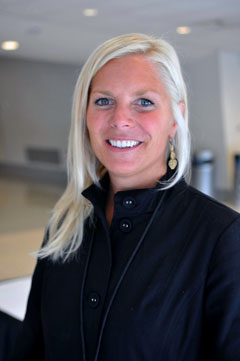 Kristen Erwin Schlotman
Kristen Erwin Schlotman is the Executive Director of the Greater Cincinnati and Northern Kentucky Film Commission. She has been with the Commission since 1997, then coordinating production. With a background in marketing and radio production, her education helps her represent the Film Commission in Cincinnati and across the nation. She has many "credits under her belt," including Miles Ahead, Carol, Ides of March, Secretariat, Dreamer, Traffic, In Too Deep, Seabiscuit and Elizabethtown. Under her leadership, Cincinnati now ranks as number one for reality television production. In addition to her production responsibilities, she also spearheads the Film Commission's educational endeavors, and among others, has overseen workshops on screenwriting, documentary filmmaking, media streaming and location scouting. Ms. Erwin Schlotman recently led the commission into more aggressive markets by working with state politicians to develop some of the best tax incentives worldwide. These incentives have been incredibly instrumental in bringing in significant jobs and dollars to the area. She has received many accolades including the Queen City Advocate Award, 40 Under Forty, Leadership Cincinnati, and The Cincinnati Enquirer's 20 Women to Watch.